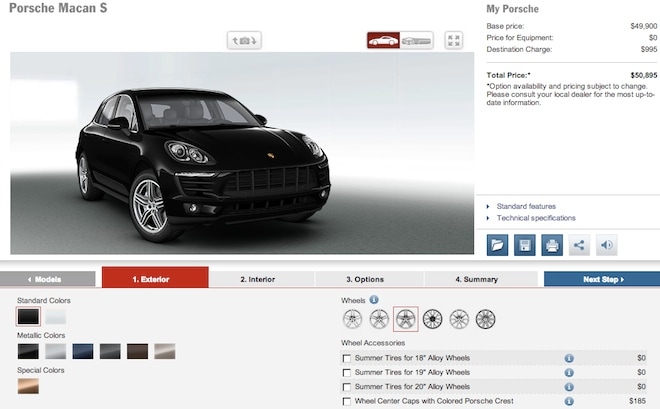 If you're looking for something that can get you where you're going in supreme style and speed, with lots of interior room but you'd prefer something just a little smaller than the Porsche Cayenne, then we here at Porsche of Plano have just the suggestion for you: the Porsche Macan. It's not released yet, so don't go jumping out the door to your nearest dealership like ours here in Plano, TX just yet. However, there is something you can do in the meantime to tide you over as you wait.
The automaker has put up a configurator online so you can head over and put together the Macan of your dreams right now, free of charge!
Click and check your way through the options and extras to your heart's content; everything available is here to be seen, so you can see for yourself exactly what you want will cost in the end. You have two models to choose from as the base - the Macan S and the Macan Turbo - starting at $49,900 MSRP and $72,300 MSRP respectively.
Exterior options give you the choice of standard, metallic, and special colors as well as wheel appearance. The interior tab gives you chair options and the color or material. The n there are optional packages that add little extras for your pleasure and convenience. Finally, hit the summary tab to see it all together with everything you picked.
If you?d like to check out something from the current new Porsche lineup, we welcome you to visit us today. We'll be sure to find something that meets all your design and performance needs, no matter what they may be.