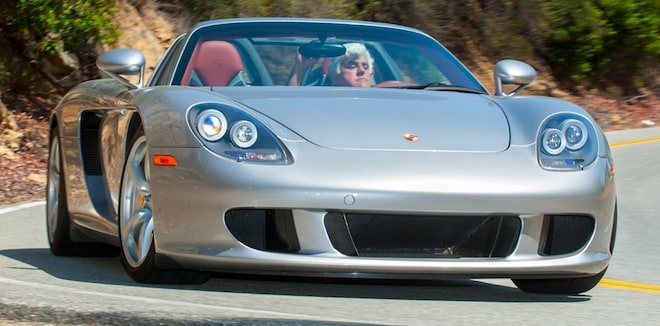 The showroom here at Porsche of Plano is a sight to behold, filled with a slew of sporty and luxurious models from our German automaker. However, there is one collection of cars that even we are envious of, that being the garage of legendary television personality Jay Leno.
Within Leno's collection sits some one-of-a-kind vehicles that are simply awe inspiring. From the EcoJet concept car that runs on biodiesel and jet turbine engines to his incredibly powerful unique McLaren F1, Leno has seemingly the most eclectic collection in all of America.
For us there is one vehicle that sits in Leno's garage that we just can't stop staring at, his Porsche Carrera GT. We were always taught it was not polite to stare, but take a look below at a video courtesy of speedandmotion.com depicting Leno's Carrera and you will be powerless in averting your gaze:
Take a moment to clean up the drool from your keyboard and leave the daydreams behind, try and snap back to reality. Jay Leno's Porsche Carrera GT is truly a sight to behold, and is one of the best vehicles our brand ever crafted.
This model has since been replaced by the Porsche 918 Spyder, making the Carrera GT a classic. For Leno, it just isn't right to let such beauty sit without use, and unlike most car collectors, he actually drives his GT around Southern California.
While we may not have a model like the Carrera GT in our inventory of new Porsche vehicles, we do have awesome sports cars like the 2014 Boxster. If you want to cruise around Plano, Texas is style, sport and speed then stop by our showroom and check out all the rides we offer.