New Technology In The 2017 Porsche 911
The Porsche 911 features some exciting new features and technology for 2017. Changes include a small facelift along with minor chassis and software updates. Most importantly though, now all models will come standard with a turbocharged engine. This allows for the uncompromised performance you come to expect from Porsche, along with fuel efficiency that is safe for both the environment and your wallet. Additionally, active rear steering that was originally found on the performance oriented GT3, will now be available for all models. 

2017 Porsche 911 Interior Features
One of the highlights of the Porsche 911 has always been the performance oriented yet welcoming and comfortable interior. The 2017 Porsche 911 stays true to its roots by offering a 7-speed manual transmission for those looking for more engagement while driving. The advanced Porsche Doppelkupplung (PDK) automatic transmission system is available on all models if you are looking for an easy yet exciting option. Most notable is the new available Porsche Communication Management (PCM) Which features a high-resolution touch display with integrated proximity sensor which allows simple and convenient operation. Optional Bose® or Burmester® sound systems are available if you want to enjoy music other than that coming from the 3.0L 6-cylinder engine.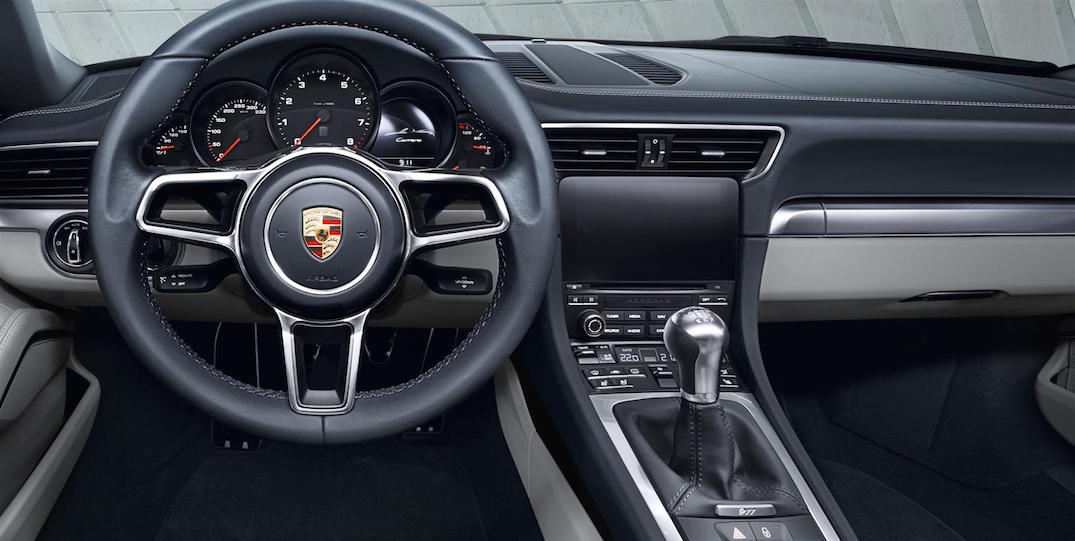 Available Performance With The 2017 Porsche 911
The engine found in the 2017 Porsche 911 is the perfect blend of performance and efficiency. Every 911 model now comes standard with twin-turbos which helps maintain performance while keeping fuel consumption low. The engine in the standard 911 Carrera now develops an invigorating 370 hp. The maximum torque of 325 lb.-ft. is available from as low as 1,700 rpm. With the PDK transmission, the 911 Carrera can accelerate from 0 to 62 mph in only 4.4 seconds and reach a top speed of 182 mph. Overall performance increases with the 911 Carrera S model. Featuring larger turbochargers and an upgraded exhaust system, the 2017 911 Carrera S generates an exhilarating 420 horsepower and the maximum torque is a mighty 368 lb.-ft. With the PDK transmission and Launch Control, the 911 Carrera S model sprints to 60 mph in a mere 3.9 seconds. Top speed isn't reached until 190 mph.

2017 Porsche 911 For Sale Near You
With a variety of exciting features and technology along with a timeless driving experience, the 2017 Porsche 911 will be sure to fulfill all of your needs. For more information on the
2017 Porsche 911 for sale in Plano
, feel free to call
Porsche Plano
at
(972) 249-0910
. Our knowledgeable team will be quick to assist you with anything you need.